Our Technology
Contact us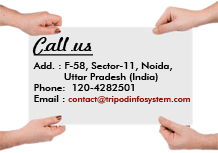 Java Application Development
| | |
| --- | --- |
| At Tripod Information Systems, we have the capabilities to provide software development services using Java, J2EE or J2ME technology. We ensure the highest application quality and shortened development cycles by employing the best-in-class J2EE Application Development framework in our development work as per the project requirements. We provide design and development services designed to deliver software that efficiently utilizes the services available from Java application servers and the J2EE framework. | |
We at Tripod Information Systems offer to provide one stop solution for all your requirements by utilizing the power of Java/J2EE in developing future Web 2.0 applications and services. We have extensively worked in J2EE and J2ME. Our strength in J2ME helps us offer wireless solutions to companies that wish to integrate wireless mobile framework based applications into their existing applications. Our expertise in databases includes Oracle (7, 8i, 9i, 10G), MS SQL Server, My SQL, Postgress, Sybase, IBM DB2 and Ms Access.
Tripod Information Systems is an offshore software development company in India creating truly n-tier applications with in-depth implementation of MVC (Model View Controller) offering J2EE development marked by reduced complexity and a stable enterprise platform. Tripod Information Systems has a decade of experience in re-platforming applications for our customers who want to convert their legacy or any existing applications to Java Application. SPEC INDIA is the appropriate choice for outsourcing Java Software Development in India.
Tripod Information Systems has been playing a dominant role in leveraging quality yet cost effective offshore Java application development with special emphasis on scalability. We aim at building skill, managing knowledge and constantly researching on revolutionary Java technologies.
Java Advantages
It is an open source, so users do not have to struggle with heavy license fees each year
Platform independent
Network centric
Automatic memory management
Security, Exception specifications
Multi-platform support language and support for web-services
Develop dynamic web applications