Our Technology
Contact us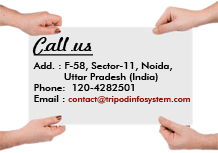 PHP Web Development
PHP is a scripting language that is extensively used for web development to create dynamic, flexible, interactive and compelling Web pages but not limited to web development only. This is a general purpose language where a PHP source code is planted into HTML source code and translated by the Web server through a PHP engine module. The outcome is generation of a Web page document. PHP environment involves many utilities like supporting different types of Web development including graphics in applications. Mostly, PHP is deployed on Web servers and act as a standalone interpreter on most of the operating systems or even a platform without any extra cost.
Tripod specializes in PHP Web development owing to the power offered by PHP environment and its capacity which are efficiently tapped for client benefits through trustworthy systems to work as per business requirements. Originally, PHP was abbreviated for "Personal Home Page" but today it stands for "PHP: Hypertext Preprocessor".
PHP Development Service Offerings
| | |
| --- | --- |
| • | Custom PHP application development: Tripod offers its services across the Globe for customized solutions based upon clients' design and development requirement. PHP Website Development, custom PHP development, and productive applications are developed as per latest technical development standards resulting into sound, dynamic and robust application development. |
| • | Migration of Readymade Web Applications: Migration of standalone PHP based applications to a Web based platform is done effectively through Tripod. Company has also taken-up the task of efficient migration services for porting applications and database to other technology platforms. |
| • | Mastermind application and amend them: Applications are reengineered to improve upon the technical architecture and amended as per business requirements. These amendments are done to amalgamate new application systems with all the features along with new requirements. |
| • | Up-keeping applications: Maintenance of applications and support services. These services are offered to ensure consistency in business operations. Problems arising are identified and solved there and then to ensure application enhancement and deployment. |
| • | Web Portals or Websites: Dynamic or interactive |
| • | Marketing Websites/Product Websites/E-Commerce Websites: |
| • | Gaming Applications: |
| • | Integrated Web Services: |
| • | Social Networking or Community Websites: |
Tools and technologies supporting PHP:
In terms of Frameworks: Code PHP and Code Igniter are prominent ones.
In terms of CMS: Drupal, Magento, Joomla, Wordpress to name a few
PHP is preferred over others because of its online Database Management system (DBMS) in the form of "PHPmyadmin". This tool enables Users to edit, add or delete information from their website or web portal online without any efforts.