Our Technology
Contact us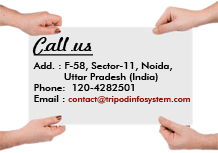 About Us
We pride ourselves on offering unrivalled levels of both expertise and service, at Tripod Information Systems. We provide a varied range of solutions for all sizes of company, from the five-user office to the large global enterprise, across all sectors. Our extensive and varied experience allows us to offer our clients a wide range of systems and services which maximizes efficiency, increases productivity and delivers security, while also being cost-effective and adding real business value.

We understand that no two clients or their needs are same. That's why each project and each client is unique for us, bringing new challenges and new possibilities for us. Our IT Experts team spends time and effort in knowing the specific requirements of a client because we believe that 'one plan can't fit all'. Subsequently, our website optimization plans and services are customized not only to meet your needs but to maximize your benefits as well.

Tripod Information Systems was set up in 2009, at Noida to facilitate business and trade in software and services and to encourage advancement of research in various IT services.
Vision and Mission
Vision

It's the way we do business. It's the way we interact with the community. It's the way we interpret the world around us-- our customers needs, the future of technology, and the global business climate. Whatever changes the future may bring our vision -- Tripod Vision - will be our guiding force.

So Tripod needs full customer satisfaction.

Mission:

Tripod's mission is to be the most successful Computer Company in the world at delivering the best customer experience in markets we serve. In doing so, Tripod will meet customer expectations of:


| | |
| --- | --- |
| | Highest quality |
| | Leading technology |
| | Competitive pricing |
| | Individual and company accountability |
| | Best-in-class service and support |
| | Flexible customization capability |
| | Superior corporate citizenship |
| | Financial stability |